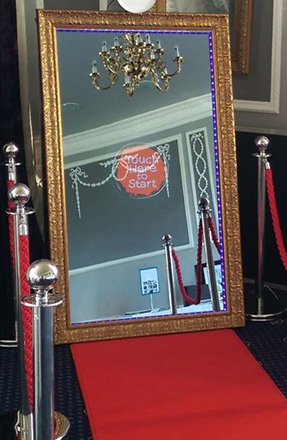 Selfie Mirror In India | Selfie mirror in Punjab
Are you looking for unique and modern concept of selfie mirror in India? If you are willing to make your event successful and most memorable then here comes the selfie mirror with the new advance technology and attractive features pre-loaded with the animations, sounds for the purpose of fun and memorable photograph of your event, wedding.
We have collected the best Selfie animations mirror at one place so that you don't have to go to another place. We also have funny, cute and cool attractive animations for you to make your photograph look real and stylish.
This stunning selfie mirror captures full length photos using a touch screen reflective screen. Strike any pose and animation you like then customize your pictures using the on screen paint pad. Your pictures are printed in less than 1 minute. So be the part of our selfie mirror and click the stylish and amazing selfie photos with our stunning selfie mirror with new modern photo features.
Our selfie Mirror are available in given locations:
Selfie mirror in Punjab

Selfie mirror in Mohali

Selfie mirror in Patiala

Selfie mirror in Ludhiana

Selfie mirror in Jalandhar

Selfie mirror in Bhatinda

Selfie mirror in Amritsar

Selfie mirror in Hoshiarpur

Selfie mirror in Haryana

Selfie mirror in Panchkula

Selfie mirror in Ambala

Selfie mirror in Kurukshetra

Selfie mirror in Karnal

Selfie mirror in Panipat

Selfie mirror in Delhi

Selfie mirror in Shimla

Selfie mirror in Solan